Posted on | March 16, 2012 | No Comments
It's always interesting to hear a person's perception of what a template is for them. Technically, a template is a specially prebuilt document you create a new document from. A template is a perfect starting point for your new document or presentation, such as a letter, newsletter or report, and includes all of the defaults, typography and layout that you need, so you don't have to set it all up every time you want a new one.
But a template is much more than just a starting point, or at least it can be, if you consider the options. In past projects we have developed new programmed macro facilities that create specially formatted tables, choose different cover designs or choose whether to have a table of contents or not. A template can be given extended abilities to really help a user in putting together that winning document. It can be a tool to make life easier.
Posted on | November 30, 2011 | No Comments
A number of our recent projects show how effective web and PDF solutions can deliver information to both executives and employee groups. These have included Shareholder forms, management appraisals and training programmes, which need to be shared in such a way to make them accessible and clear. Often as not, these details come as part of a process, where the user has to complete documents for submission and review. Delivering the base documents involves a little thought to the available technology and what the ultimate solution needs to offer the user.
Microsite web solutions
A web-based solution can be delivered on a CD or DVD, with links to local or internet information through the microsite. The disk-based pages can access video or animation, but then navigate the user to online resources on a secure location if this is an issue. Web technology can incorporate a great deal of interactive methods for a much improved interface. Some consideration has to be made in terms of web browser being used, operating system in some cases and what the security issues may be for some projects.
| | |
| --- | --- |
| | text |
PDF solutions
There are additional solutions in using PDF-based welcome pages in much the same way. A PDF is likely to deliver a better quality presentation if used in kiosk-mode. Animation is possible, as are embedded video, and linked pages can better subdivide the information or document lists and descriptions. Using javascript can extend the controls and navigation experience.
| | |
| --- | --- |
| | text |
In each example, the solution can open automatically when the user puts the disk in their computer in most cases. They can navigate through key sections, view documents and watch video, if included. The documents supplied on the CD/DVD can be completed by the user and submitted as part of the programme. There are some technical and user considerations that need to be assessed, but can be very effective methods of sharing information in a group.
If you have a project that would benefit from this type of solution, call us today.
Posted on | November 29, 2011 | No Comments
Over the last year we have had the opportunity to work on a number of presentations for the Tech City development around Shoreditch, East London. Tech City is the move to set up a UK-based 'silicon valley' that reaches as far as the Olympic village. We have worked on a number of proposals for the data centre and infrastructure work, as well as independent businesses moving into the area.
As with any PowerPoint-based presentation, they need to be dynamic and succinct. It is all too easy to add too much to a slide, or over-design the message with unnecessary information. Less, is often more, they say.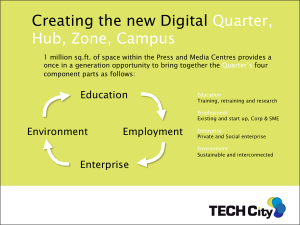 Posted on | August 2, 2011 | No Comments
Every so often we get to develop a client's project that really pushes Office and uses some of the more complex features in the software. These projects are not really pushing the boundaries, but use features that most people are not using, or don't know how.
A recent project for a brand analysis client started out as a fairly straight-forward PowerPoint project, but what the client really wanted was to be able to reduce the time-consuming task of constructing a presentation where all of the charts and data would change each presentation. Now, this is normal Excel work, as far as the data and charts are concerned, but the client was keen to hear what could be done. We realised that a large number of the slides in a presentation used the same layout, but a different chart. The same chart, but different data. We suggested that a more modular approach to the presentation would allow the team to compose a new presentation in a much smaller timeframe, by using a layered system of slides and a managing Excel sheet.
Office 2007 and 2010 for Windows now allows for very defined layouts that a user can insert to make up their presentation. We took this functionality and developed a key number of slide types that would cover all of the base slide designs needed. Along with this we created supporting graphics, stored within the template, that could be used in conjunction with the charts themselves. Finally, we developed a 'control panel' Workbook in Excel that would manage all of the charts. The charts were then linked to the base slide examples and would automatically update when the data was changed in the Excel Workbook. To help the user in composing their new presentation, we added a little custom programming that allowed the user to update these links whenever they wanted. [Sorry Mac users, but in their infinite wisdom, Microsoft removed the facilities that allow all of this in their Office 2008 version.]
There are certain aspects of the presentation, and especially how it is put together, that may require a bit of training, but the modular approach to both the Excel and slide management meant that the solution could be more creative and, therefore, more impressive for the person watching.
Posted on | May 12, 2011 | No Comments
As you can probably guess, we work with a very large number of businesses who will have an interesting selection of Office versions. For us, this makes for more of a challenge in developing the templates, but does raise some cross-over questions for the users, who don't always get the training they need.
In just the last few months, we have completed projects in old [Office 2002] and new [Office 2010], and there are some big differences for the user and what we can do to make a better template. Most corporates have a staging process of upgrade, which usually means skipping a version or two as the years go by. This is often down to cost, as the maintenance contracts for Microsoft are not cheap if you have more than just a couple of dozen users. We work in Office 2003 most weeks, despite the fact that this is now eight years old. In a recent project, which was specified as Office 2007, the specification changed quite dramatically when we found out that they only had Office 2003. This is especially true of PowerPoint.
Software gets better, that's the general purpose of upgrades, and Office is no different. We have all of the Office versions here, so we also know what issues there are in each version, or from version to version. There are, for instance, a number of compatibility issues between the Mac and Windows versions, some of which mean that a number of features cannot be used if a cross-platform solution is required.
So, is it time for you to upgrade? If you are currently using Office 2003 or earlier, then we would recommend that you upgrade to Office 2010. With the new file format and the very useful new features and functionality, you will see some very important improvements, as well as be more prepared for receiving documents from outside your organisation.
If we can be of help in this process, upgrade your current templates, or assist in training, call us today.
keep looking »