In versions of Office earlier than 2007, the custom toolbar was the best solution for adding additional features and functions for the user. This was an extension of the existing toolbar system that came with Office and would display the standard tools in narrow rows across the top of the screen. You could also 'float' the toolbar on the screen, which, for some users, was a big help.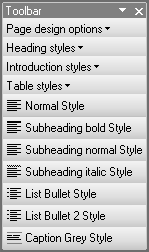 As a developer, we could create new, custom ones that were attached to a specific template, giving the user access to custom programming that helped them construct their documents. Functions like adding in specific table styles, formatting tables and diagrams, or accessing a network library of images. A toolbar helped to focus the user and list much needed functionality, especially when the user's skills were not well defined.
When Microsoft released Office 2007, the toolbar was given notice. The new version would display the old format toolbars, but there was no way of editing them. Instead, Microsoft completely redesigned the menu system and introduced the menu ribbon, which is XML-based and quite different. In later versions, the editor became more user-friendly, but there are still shortfalls in the way they work and what you can do with them.

For everything else, there's custom programming. Some solutions require a more unique approach, especially if it's part of a branding exercise or require specially-designed buttons and arrangements. A custom report may need a special menu to supply formatting help for the user or special buttons to access import functions for Excel data or images from a company picture library. In this case, a new menu is often the best approach and delivers a better solution than adding them to an existing menu that the user may miss.

We can discuss the possibilities with you, or have a meeting to outline the sort of solution that may solve an issue for you and your colleagues.