OK, it's true to say that most of our work is corporate. It's about applying a new brand to an existing admin or promotional system of documents. We love doing that at Operandi, but every so often we get to work on something we know can make a difference. Approached by one of our long term design client, we took on the implementation of a range of Teacher packs for Children in Need. The charity has been in existence since 1980, and raised millions in donations every year for underprivileged children.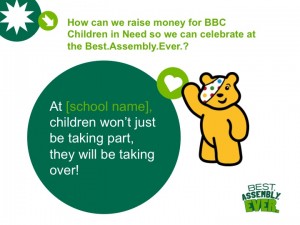 We were tasked with taking the initial designs and working with the BBC team to create two specific Teacher packs for Primary and Secondary school use. To further complicate things, they were needed for all four regions of the UK, with differences to cater of the changes on education authorities, including one version in Welsh! In all, that amounted to 13 complete sets, consisting of 193 templates. WOW! The premise for the Teachers and pupils was to create a fundraiser based on the Best Ever Assembly. The packs encouraged the pupils to take on every aspect of the work, from coming up with the ideas, to raising awareness and executing the day, raising as much money for Children in Need as they could.
In order to make sure that the schools received the packs well in advance, we were given a firm deadline for the work. A few rounds of changes and visual amends and we met the challenge head on. Despite some long days, we enjoyed being part of the team and helping Pudsey.
Congratulations on another great year.
Edit: A note from our client:
I just wanted to drop you a note from BBC Children in Need again to say thanks for all your work on the schools materials this year. I have just got the stats through and the packs have been downloaded over 11,000 times and are our third most downloaded item. They have gone down incredibly well in schools, with great feedback from teachers and pupils who have been using them. Partnership Account Manager, BBC Media Village.