There are Word forms and Word forms.
Strictly speaking, a Word form can be just a simple table that the user types into. This is often the case with something like an invoice or order form, but Word also offers the ability to lock down a document, so the user can only type details where the information is required. They can't edit anything other than these areas.
This type of set up can be very powerful, because the user can see everything, but only input where they need to. The design is fixed, as is the content, titles, descriptions, everything. Even the font and size are out of bounds. With the content being input by a user, we have to set things up to allow for more or less text and details.
A few years ago, I remember developing a mortgage application form for a finance company. Yes, a complete, 48 page application form, in Word. The main issue was that the client didn't want the person filling it in to be able to change anything else. In this case, we put the form together based on the designs supplied, but modified things to make use of the forms features, which are quite specific. These included text, checkboxes and drop-down fields with a predefined list of items. The result was that the user could work through the form, tabbing to each item, and typing or selecting the details as they went. Other details, like field names, rules and logos, were all protected.
The form was made available on the client's website, and the user would sign in to download it. As a Word document, this assumes that the user has Word to open and use it and, if this is an issue, we generally recommend Acrobat PDF forms as an alternative. [Yes, we do those too.]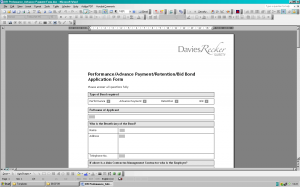 For control and management of form fields it is generally best practice to set up a table to structure the pages. This also makes sure that the fields line up and follow the design as closely as possible. There are some subtle rules for setting up a form in Word, and we have a lot of experience in this type of document.
If you're interested in what works and what doesn't, or simply need to discuss a possible job, call us on 020 3251 0251.