Who remembers overhead projectors? Sheets of plastic cell you could draw on and project on a screen. That was high-tech once!
PowerPoint is probably the most widely used presentation tool for both business and personal use today. The original PowerPoint seems to have been called Presenter, and was not developed by Microsoft at all. [Interestingly, the same developers came up with a little software called Nutshell, which ended up as FileMaker Pro!]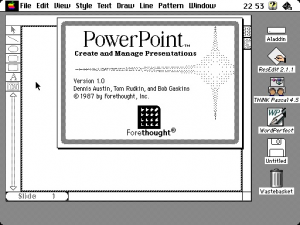 Microsoft bought the software, along with the company Forethought, in 1987, and later combined it with Word and Excel as the Office suite in the early 90's.
A few presentation tools have been and gone along the way. We remember Persuasion. Freelance, which is still available from IBM, could have taught PowerPoint a few things.
PowerPoint has been through very few real upgrades in its life, certainly in terms of features and functions. A comparison between PowerPoint 95 with PowerPoint 2000 shows few user facing changes. In the 2003 version, PowerPoint had a considerable upgrade in its animation and transitions library, making it much more valuable for dynamic presentations and as a marketing tool.
PowerPoint 2007 introduces some radical changes to the interface and feature set. You can now edit the layouts that are applied to the slides, as well as create better colour management. It also introduces a new file format, and some surprising incompatibilities with earlier versions. Many PowerPoint 2003 presentations don't run quite the same way, or animations do different things.
For this reason, it is important to tell us which versions of PowerPoint you or your client are using. We have most of the Office software going back more that 12 years, so we can make sure that the templates we develop for you will work in the versions you tell us. Or advise you if they won't!